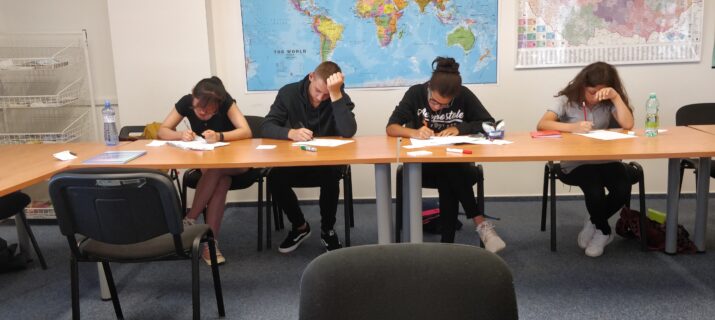 Czech language grammar courses for EU citizens (spring 2022)
Dear clients,
We will be opening more Czech grammar courses starting the week from 21st February 2022 again. The classes are intended for all EU and EEA citizens who reside in the South Moravian Region.
Course levels: A1.1 (beginners) – B1.3
The duration of 1 course: 3 months
Regularity of lessons: 2x a week according to the schedule
Length of lessons: 1 lesson = 3*45 minutes
The focus of the course: General language courses: vocabulary, grammar, reading, listening, speaking, writing
Course registration: ONLINE on the website of the Centre for Foreigners JMK, on 30th January 2022 at 18.00.
PAY ATTENTION! You need to know your language level before you apply for the course!!!
COURSE REGISTRATION, 3 OPTIONS:
I AM A CLIENT OF THE CENTRE

– I have completed a course at the Centre = I know my level –> you continue (apply) to the next level up 
I AM A NEW CLIENT = I've never been to the Center, I've never taken a course, I CAN SPEAK CZECH A LITTLE BIT:
3. I DO NOT SPEAK CZECH AT ALL = DO NOT TAKE THE TEST!!! –> Sign in to A1.1 course.
It is possible to enrol ONLY for ONE course. If the lecturer finds that your level of Czech does not match the level of the course, you will be excluded from the course. Therefore, please think carefully about which course you sign up for.
Covid INFO: Courses are held in person at the address Mezírka 1, Brno. If the situation goes worse, the courses will be held online. 
Registration:
Select an appropriate course from the list.
Fill in the registration form (at the bottom of this page).
Fill in the "I am not a robot" field before submitting.
Click on the "Submit" button.
Wait for a confirmation email to be sent to you within 10 days.
The SCHEDULE OF COURSES:
| | | |
| --- | --- | --- |
| Course | Teaching days | Lesson time |
| (22/1) A1.1 | Mon + Wed | 17:30–20:00 |
| (22/2) A1.1 | Tue + Thur | 09:00–11:30 |
| (22/3) A1.2 | Mon + Wed | 17:30–20:00 |
| (22/4) A1.2 | Tue + Thur | 13:00–15:30 |
| (22/5) A2.1 | Tue + Thur | 17:30–20:00 |
| (22/6) A2.1 | Mon + Wed | 09:00–11:30 |
| (22/7) A2.2 | Mon + Wed | 09:00–11:30 |
| (22/8) A2.3 | Tue + Thur | 17:30–20:00 |
| (22/9) B1.1 | Tue + Thur | 17:30–20:00 |
| (22/10) B1.2 | Tue + Thur | 17:30–20:00 |
| (22/11) B1.3 | Mon + Wed | 07:30–09:00 |
If you have any questions, you can contact our coordinator at koudelkova.jitka@jmk.cz