How can I help?
LET'S HELP TOGETHER
1) As a volunteer
1.A) Would you like to help hospital staff and their patients?
Would you like to get involved in helping those who are ill?
Help paramedics now in this difficult situation!
Register for the course for volunteer paramedics, where you will learn all about the work of paramedics and receive a certificate of completion of the course, which you can also use in the future.
Where the courses take place: in Brno at a medical school
The content of volunteering: helping professional paramedics – especially nurses – with caring for patients.
Course conditions: communicative knowledge of the Czech language (the course is conducted in Czech), a person above 18 years old, clean criminal record (= necessary extract from the criminal record)
The course is organized in cooperation with the Czech Red Cross and the General University Hospital. Detailed information about the course content can be found at zvladnemeto.cervenykriz.eu
How to register for the course: 1. Click on the website: zvladnemeto.cervenykriz.eu
2. Click on: REGISTER (at the very bottom)
3. Click on: Next
4. Fill in your personal data
5. Answer the questions
6. Select a course date
7. Agree to the processing of data and click on: Submit
Knowledge of the Czech language is required to complete the form. Do not forget to state that you are interested in participating in a course outside of Prague and then choose a course held in Brno.
Once completed, you will be contacted by phone by a Red Cross employee.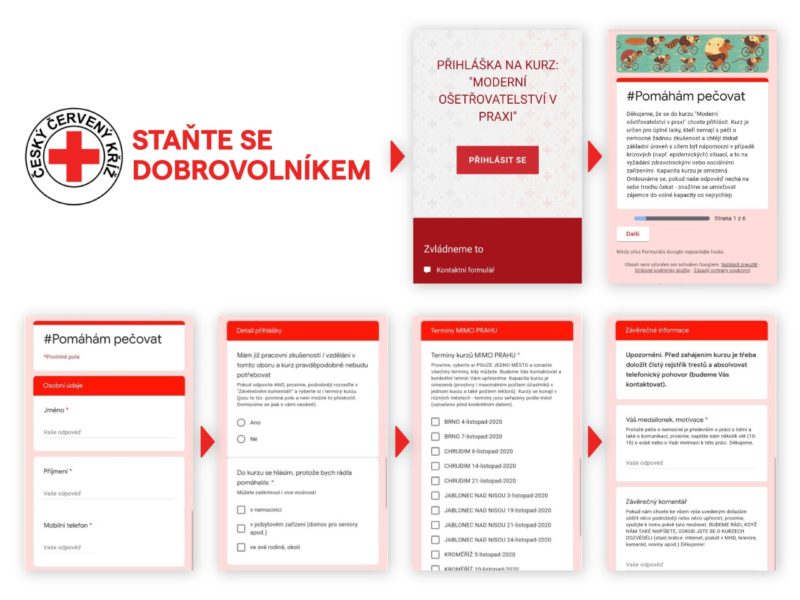 1.B) Would you like to help with the everyday problems of affected households?
Helping first-line patients is extremely important, but there is a number of other activities that need to be carried out to get through the pandemic together.
The Volunteer Center Muni helps records the requests for help through a smart application and will appreciate every single volunteer who is willing to provide it. It includes, for example, helping seniors with grocery shopping or tutoring children, but it also tries to support the public's own projects and offers them support and consultation.
Detailed information can be found at: munipomaha.cz
How to participate:
Download the app "muni helps"
Fill in your profile including information on where and how you're willing to help (you can deactivate your profile at any time to indicate that you can't help at the moment)
In the "request for help" section, choose the activity you want to do
In case of further questions, you can contact: mail@munipomaha.cz
2) By donating old electronics, money or even blood
2.A) Do you have an old laptop, tablet or smartphone that you do not use anymore?
COLLECTION OF ELECTRONICS FOR ONLINE EDUCATION
Dear clients,
we would like to inform you about the collection of electronics organized by the Brno network of Rebelbean cafés and the Ratolest Brno association. They decided to organize a collection of laptops, phones and tablets for families with children that do not have them and need them for the purpose of e-learning. What can you donate? Especially functional laptops with a charging cable, tablets and smartphones. Ideally with a newly installed operating system. If you are not sure how to install it, you can try to ask your friends to see if anyone can give you advice. If that does not work out, please delete at least all your personal files and passwords. If you can, join the collection or let your friends, acquaintances or colleagues know about it.
The collection locations, where you can bring your donations, are:
Rebelbean Vlněna (Přízova 5, 602 00 Brno-střed)

Rebelbean Jundrov (Veslařská 36, 637 00 Brno-Jundrov)

Buchta B (Štefánikova 85/16, 602 00 Brno-Královo Pole-Ponava)

Kobliha (Pekařská 433/68, 602 00 Brno-střed-Staré Brno)

The Roses Beer & Coffee (Purkyňova 2415/116, 612 00 Brno-Medlánky)

Piknik box (Björnsonův sad, 611 80 Brno-střed)

Komár kafe – espresso bar (Kounicova 58/85, 602 00 Brno-Žabovřesky)

Industra Coffee (Masná 9, 602 00 Brno-jih-Trnitá)

Plezír (Čechova 384/25, 664 51 Šlapanice)
2B) Have you experienced COVID-19 and are you a man aged 18-65 years?
Donate convalescent plasma to help patients develop antibodies. The conditions for being a donor are relatively strict due to health reasons. The basic condition is that you are a man aged 18-65 years (first donation under 60 years), you had a SARS-CoV-2 infection (you had a positive test) and at the same time, you had clinical symptoms such as difficulty in breathing, high temperature, cough and other. You must also be healthy for at least two weeks, completely asymptomatic, and optimally the time since you recovered should not exceed three months.
In addition to these conditions, it is required to meet the general requirements for donating blood and their components, including especially health problems or visits in risk areas. You can find more information here: www.transfuznispolecnost.cz/darci-krve or here: www.fnbrno.cz/letak-daruj-krev
At The University Hospital Brno, it is possible to make an appointment on weekdays from 6:30-14:00 using the toll-free line 800 900 097, or the regular line 532 233 607. In case of any problems, you can contact tto-darcekrve@fnbrno.cz.
2C) You don't have time, nor old electronics, and you can't donate convalescent plasma?
Contribute financially to some of the helping organizations. We can recommend, for instance, the public fundraiser "Na vlně pomoci proti bezmoci!", which is intended for direct financial help to people who lost money needed for providing basic necessities, due to the COVID-19 pandemic and related government measures. The raised money will be used to directly help people in need, in a critical life situation, children and mothers with children, the seriously ill, the homeless, and abandoned or elderly people who are in need in this exceptional situation.
Details of the fundraiser, including information on how to become a recipient of help, can be found on the website: www.charita.cz/jak-pomahame/doma/koronakrize.
Support the fundraiser by donating to account 44665522/0800, VS 90619, or send a one-time or permanent DMS in the form: DMS CHARITAPOMOC 30, 60 or 90; DMS TRV CHARITAPOMOC 30, 60 or 90 to the number 87 777.
3) By baking and making snacks for staff and volunteers in hospitals
Do you like to bake and want to be helpful to staff and volunteers in hospitals?
You can prepare a snack for the doctors! They will certainly appreciate a savory or sweet snack. If you have a garden with fruit trees or vegetables, this is definitely the right time to share them ?.
You don't have to worry about being limited by type or quantity. Based on the information you provide, the coordinator will estimate where your edible gift will be best used – thanks to you, nurses, doctors, ambulancemen, volunteers, or even administrative staff in hospitals will have more energy and strength in their daily beneficial work.
Please be responsible and pay attention to hygiene measures when making snacks to prevent the spread of the disease. You make snacks at your own expense.
If you would like to donate to Bohunice (Jihlavská 20, 625 00 Brno), children's hospital (Černopolní 9, Brno) or to the maternity hospital at Obilní trh (Obilní trh 11, Brno), call or write to the head of the Communication Center of the University Hospital Brno: Mgr. Václav Janištin, tel. 532 232 193, e-mail: janistin.vaclav@fnbrno.cz.
Take a photo with your finished creation and send it to us via e-mail: cizincijmk@jmk.cz.
Thank you to everyone who wants to help in any way! <3