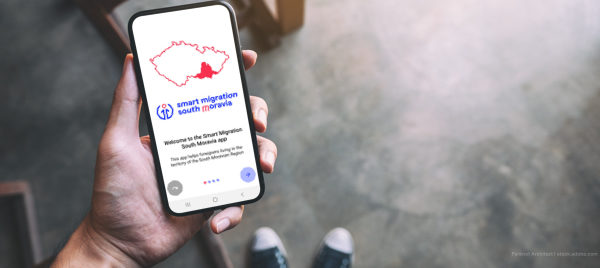 Our app Smart Migration South Moravia is available
Our app Smart Migration South Moravia is available on Google Play! Download it for free here: https://bit.ly/3Cw9T2c
If you want to move to the South Moravian Region, Czechia, or if you already live here, we got an app for you. The app Smart Migration South Moravia is providing important information and answers to questions regarding your stay in the Czechia and the South Moravian Region. The app contains information on visas and other types of residence in Czechia along with information on employment, social security, education, health, and other. Smart Migration South Moravia is available in English, Ukrainian, and Russian.
Smart Migration South Moravia also includes essential information for Ukrainian refugees who arrived in the South Moravian Region. The content of our website Info Ukraine is passed in an interactive form via the app. Data in the app are regularly updated same as the Info Ukraine website.
The interface of the app is divided into the four main tabs: Issues, To-Do, Contacts, and Chat. "Issues" contain answers to the most common questions and offer solutions for you. These solutions might be transferred as tasks to your "To-Do" where you can also add your own notes and reminders. "Contacts" offer crucial phone numbers, websites, and email addresses – from emergency numbers to NGOs' and state authorities' contact info. A virtual assistant can answer your questions or provide you with contact to an organization that might help you in "Chat".
The app was developed by the Faculty of Business and Economics of Mendel University in Brno, in cooperation with the Metropolitan University Prague, as the part of the project "Smart Migration in the Czech Republic" which was funded by the Technological Agency of the Czech Republic.