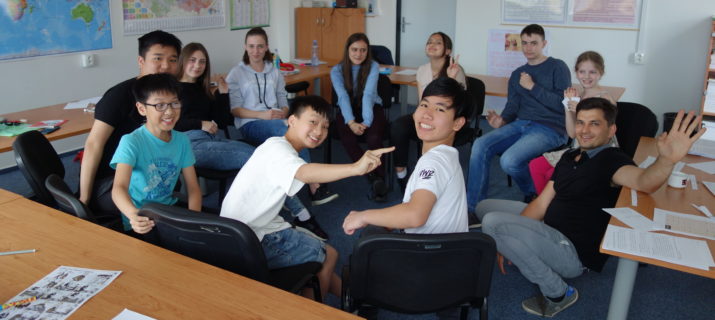 Czech Summer Courses for Children and Teenagers (non-EU citizens)
Dear clients,
We are opening summer courses for children in August.
Duration: 15. August – 30. August 2022
Timetable:  3 hours per day, MON-FRI, 12 days in total 
For Who: Slavics, Non-Slavics.
The courses will take place in the Centre for Foreigners JMK, at Mezírka 1, Brno

The capacity for each course is 12 children. It is required to register further down on this page. If you want to register more children, creating a separate registration for each child is necessary. 

Registration takes place from 5.6. at 18:00
🇪🇺Information for EU Citizens: Unfortunately, due to changes in financing we cannot accept any EU citizens into these courses.
TIMETABLE: 
Preschool age (5-7) – NON-SLAVICS: 9:00-11:30 (for children who are not attending school yet)
Preschool age (5-7) – SLAVICS: 9:00-11:30 (for children who are not attending school yet)
Young school age (6-10) – NON-SLAVICS: 9:00-11:30
Young school age (6-10) – SLAVICS: 9:00-11:30
Older school age (11-15) – NON-SLAVICS: 9:00-11:30
Older school age (11-15) – SLAVICS: 13:30-16:00
Teenagers  (15-18) – NON-SLAVICS: 12:00-14:30
Teenagers (15-18) – SLAVICS: 12:00-14:30
!IMPORTANT! There will be a meeting with parents and children before the start of the course. At the meeting you will find out information about the course and you will obtain a list of things that the children will need. The meetings will take place in the list below: 
Preschool age (5-7) – NON-SLAVICS: 1. August  8:00-8:45
Preschool age (5-7) – SLAVICS: 1. August  9:00-9:45
Young school age (6-10) – NON-SLAVICS: 1. August  10:00-10:45
Young school age (6-10) – SLAVICS: 1. August  12:00-12:45
Older school age (11-15) – NON-SLAVICS:  1. August  13:00-13:45
Older school age (11-15) – SLAVICS: 2. August  8:00-8:45
Teenagers (15-18) – NON-SLAVICS: 2. August  9:00-9:45
Teenagers (15-18) – SLAVICS: 2. August  10:00-10:45