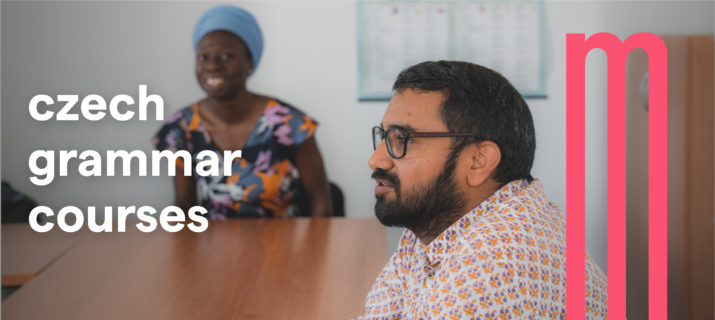 Czech Grammar Courses for Non-EU Citizens – Autumn 2022
Courses begin from 12.9. Registration begins on 28. 8. 2022 (18:00) until 31. 8. 2022 (18:00) below on this page. 
Dear clients, starting 12 September 2022 we will open new Czech grammar courses for you.  
Courses are for all citizens with an over 90-day residence living in the South Moravian region. 

These courses are only for Non-European Union citizens (if you are looking for courses for EU citizens, you can find them here)

Clients with Czech citizenship

cannot

sign up for these courses.

It is possible to enroll in

ONLY ONE course.
Course levels:
NON-SLAVIC, A1.1 – B1.4 levels

SLAVIC, A1 – B1.4 levels

Explanation

: Slavic (your native language is a Slavic language = Ukrainian, Russian, Serbian, Macedonian. Non-Slavic are all other languages apart from the aforementioned ones. 
Duration of 1 course: 3–4 months
Frequency of lessons: 2–3 times per week according to schedule 
Aim of the course: General language courses: vocabulary, grammar, reading, listening, speaking, writing 
WARNING: You need to know your level before registering!!! 
During SIGNING INTO THE COURSE, 3 situations can occur: 
1. I AM A CLIENT OF THE CENTRE
– I have already done a course in the Centre = I know my level + I have passed the final course exam with over 70% => you are going to continue (sign up) for a higher level. 
2. I AM A NEW CLIENT= I have never been to the Centre, I have never participated in a course, I KNOW A BIT OF CZECH: 
If you are a new client, you

cannot

sign up without a placement test. Placement test = written and oral part.

Take the placement test 

Complete the online written test until 30. July 2022. The number of places is limited, take the test as soon as possible.
Sign up here:

https://cizincijmk.cz/elearning/login/index.php

or create an account

in our e-learning system here:

https://cizincijmk.cz/elearning/login/signup.php

You can find the placement test and other information here:

https://cizincijmk.cz/elearning/mod/quiz/view.php?id=3929

under: "

Placement test

"

We will contact you after you finish the test and a

personal meeting and an interview in Czech

will take place. 

For finding out your level it is necessary to take part in both the written test and a personal interview

!!! You can choose if the interview will be face-to-face or online through Zoom.  

Due to organizational reasons, we cannot accept certificates from Czech language courses from other institutions.
3. I DON'T KNOW CZECH AT ALL = DON'T DO THE TEST!!! 
Sign up to A1.1 (Non-Slavic), or A1 (Slavic)
Covid INFO:
The courses take place

in person

at the address Mezírka 1, Brno. If the situation gets worse, the courses will take place online. 

Courses marked as "

online

" take place through

ZOOM no matter the situation. 
Registration:
Choose an appropriate course from the list.
Fill out the registration form (lower on this page). 
Before sending the form click the button "Nejsem robot" ("I am not a robot").
Click on the button "Odeslat" ("Send"). 
Wait for the confirmation e-mail which we will send within 14 days.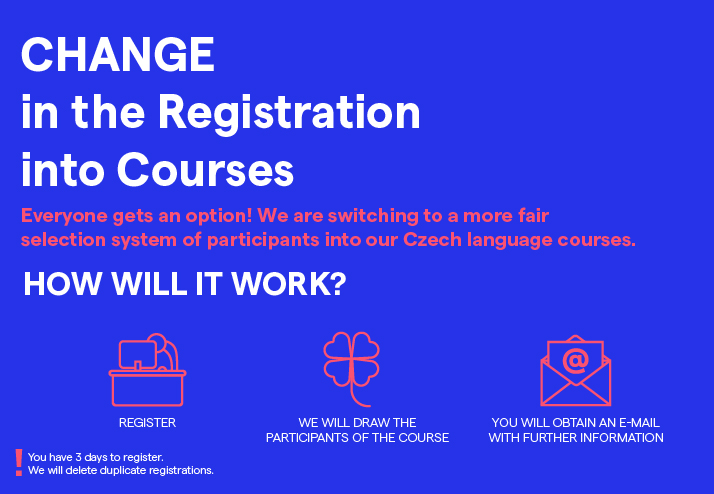 Course timetable:
Course
Day of Lesson
Time of lesson
Beginning of course
(09) A1.1. Non-Slavic
MON + WED
9:00-11:30
12. 9. 2022
(10) A1.1. Non-Slavic (morning)
TUE + THU
7:30-9:00
13.9.2022
(11) A1.1. Non-Slavic
TUE + THU
18:00-20:30
13. 9. 2022
(12) A1.1 Non-Slavic – online
TUE + THU
17:00-19:30
13.9.2022
(13) A1.2 Non-Slavic
TUE + THU
9:00-11:30
13.9.2022
(14) A1.2 Non-Slavic
TUE + THU
18:00-20:30
13.9.2022
(15) A2.1 Non-Slavic
MON + WED + THU
7:30-9:00
12. 9. 2022
(16) A2.2 Non-Slavic
MON + WED
9:00-11:30
12. 9. 2022
(17) A2.3 Non-Slavic
MON + WED
18:00-20:30
12. 9. 2022
(18) A1 Slavic– shifts
TUE + THU 9:00-11:30/
MON + WED 18:00-20:30
9:00-11:30/
18:00-20:30
12. 9. 2022
(19) A1 Slavic
TUE + THU
15:00-17:30
13.9.2022
(20) A2.1 Slavic
TUE + THU
9:00-11:30
13.9.2022
(21) A2.1 Slavic
MON + WED

15:00-17:30

12. 9. 2022
(22) A2.2 Slavic
TUE + THU
17:00-19:30
13.9.2022
(23) A2.2 Slavic– online
TUE + THU
8:00 – 10:30
13.9.2022
(24) B1.1 mix
MON + WED

15:00-17:30

12. 9. 2022
(25) B1.2 mix
MON + WED
9:00-11:30
12. 9. 2022
(26) B1.3 mix
MON + WED
7:30-9:00
12. 9. 2022
(27) B1.4 mix
TUE + THU
9:00-11:30
13.9.2022
In case of inquiries you can contact our coordinator via e-mail: cizincijmk@jmk.cz