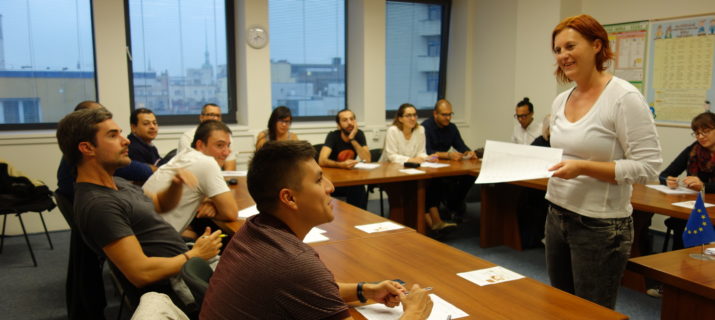 Czech language courses
There will be NEW COURSES for adults open on SEPTEMBER 2019. If you have not completed a final test with us, you MUST come personally to us at the Center of Mezirka 1 before you start the registration and write a test. However, if you already wrote a test at the end of one of our courses or are a beginner, you do not have to go here. If you are not sure, come to consult your level with the Czech Methodist BEFORE STARTED REGISTRATION.
The Centre supports the elimination of language barriers and the improvement of the language and cultural situation by offering a wide range of free Czech language courses, for both adults and children.
Courses for adults
grammatical language courses (1 course = 75 hours) – (registration: August, the beginning of September)
a conversation course with a focus on society and culture (1 course = 36 hours) – without the need to preregister for the course
e-learning correspondence courses on writing (1 course = 48 hours) (+ a link to the e-learning)
mock exams for citizenship (1 course = 5 hours)
mock exams for permanent residency (1 course = 5 hours)
Children's courses (1 course = 48 hours)
a Czech language course for preschool children (5-6/7 years of age) – an intensive summer course
a Czech language course for young school-age children (6-11 years of age)
a Czech language course for older school-age children (12-14 years of age)
a Czech language course for newly arriving  secondary school students (14-18 years of age) – an intensive summer course
in association with the Centre's partner, the Staňkova Primary School and Kindergarten – lessons in the optional subject of "Czech language for foreigners"
If you are interested in our Czech language courses, please contact us for more information by email (cizincijmk@kr-jihomoravsky.cz) or you can come and ask us in person.
The rules for participating in the courses:
– correct determination of the language level through a classification test (please contact our Czech Language Courses Specialist osmera.radim@kr-jihomoravsky.cz),
– registration to the project (only in person in our Center),
– registration for the course (only via our website),
– only one course per given period of time may be attended,
– Exam any absence to the lecturer in advance; if more than one lesson is concerned, apologize beforehand to puczokova.katerina (@) kr-jihomoravsky.cz; if you will not, we reserve the right to replace you with another client
– with less than 75% attendance you will be in other courses automatically on waiting list (for serious reasons the client can apologize in advance – not including shift work or long-term leave)
– repetition of the course – just one repetition of a course of the same level,
– completion of the course – a minimum attendance rate of 75% and a minimum of 70% is required,
– final certificate – it is necessary to apply for it and wait for confirmation e-mail; to be received at the Center,
– requirements for another course: completion of a minimum of 70% test,
– always come to the lessons on time.