CZECH COURSES ON-LINE: A1.1, A1.2, A1.3, A1.4, A2.1,A2.2 and B1.1
What is an E-learning course?
E-learning courses are on-line and take place through our system developed on the Moodle platform. In e-learning, there is no life meeting with a lecturer. However, the lecturer is with you in the course and helps you in your studies.
The course includes:
1) Explanation of vocabulary and grammar (in English);
2) Interactive exercises: reading, writing, listening, grammar, vocabulary. These exercises are done so that the system controls everything itself.
3) Writing and speaking tasks corrected by your tutor. A deadline is always selected for these tasks. You must complete assignments before that deadline so that the lector can review them and send you feedback.
The course does not include live-online meetings with the rest of the class!
Course dates: start 8.3.2021, end: 18.3.2021. The courses have 16 lessons.
E-learning course registration: Sunday 28.2.2021 at 20:00
If you do not have already, create a new account – courses run on new domain. Registration will then be easier and faster.
Courses A1.1, A1.2, A1.3 and A1.4 have a capacity of 20 people, courses A2.1 and A2.2 15 people and B1.1 10 people. You cannot registrate in e-learning course, which you already completed. 
How to choose a course?
We are still working on our courses. To help you know which one to choose, here's a little guide.
1. If you do not know anything, select course A1.1.
2. If you know something, but are with us for the first time, look at the e-learning site (here), there are syllabi of the courses and choose the one that suits you.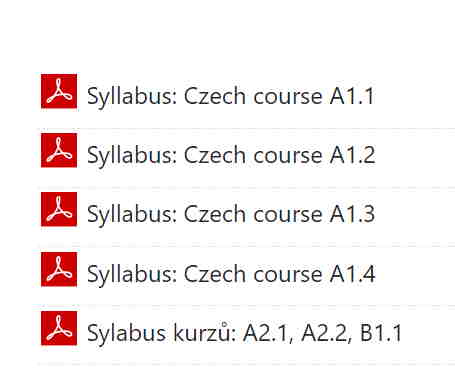 3. If you have completed Beginners 1, select A1.2 or A1.3 (see syllabus) 4. If you have completed Beginners 2, select A1.3 or A1.4 (see syllabus) 5. If you have completed A1.2, select A1.4 or A2.1 (see syllabus) 6. If you completed A2.1, select A2.2. 7. If you completed A2.2, select B1.1. 8. Do not select a course you have already taken or lower. Thank you.
In order to participate in the course, it is necessary to be our client – you have to be in Czech Republic and have legal residence at least for 90 days.