"Milostivé léto" – forgiveness of debts
Dear Clients,
We would like to inform you about the amendment to the Civil Procedure and Enforcement Act and provide you with information about the so-called "milostivé léto", which is one of the approved changes within the amendment.
The principle of the "milostivé léto" is that if the debtor pays the principal amount of the debt and costs in the amount of CZK 907.50 for the executions enforced by bailiffs (not applicable to tax executions) in the period from 28 October 2021 to 28 January 2022, the remaining debt will be forgiven.
This applies to debts such as health insurance, public transport, ČEZ, etc.
Firstly, the debtor sends a written request for the quantification of the principal to the bailiff and, when paying the principal and costs, explicitly indicate that he or she wishes to use the institute of "milostivé léto" and ask the bailiff to proceed in accordance with Act No. 286/2021 Coll., Part 2, Article IV, point 25.
sample letter "milostive_leto"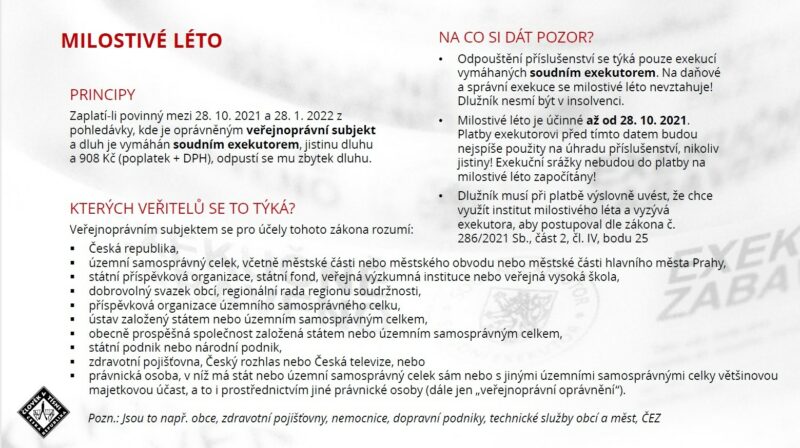 For more information visit: https://exekuce.justice.cz/milostive-leto/