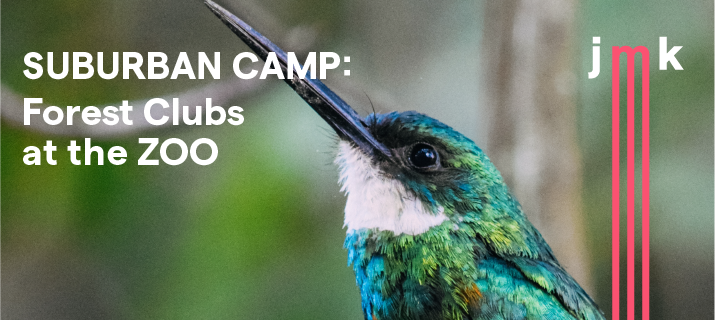 Suburban Camp: Forest Clubs at the ZOO
Are you looking for an alternative to computer games and just lying around? Join us and get out into fresh air with animals! The Forest Club offers children a week at the Brno Zoo where they will have lots of fun and learn camping skills.  
The camp is located in the beautiful environment of the zoo. Children can look forward to watching animals, unforgettable experiences and making new friends.   
The Forest Club base is a camp with large tents for individual posts. Each tent has firm flooring, a kitchenette and lockers.  This is where the backup activities will take place in the event of bad weather.
The camp is situated on the zoo grounds, away from the main route for visitors, and thus provides the children with safety and privacy.  
Let's bring children back outdoors!
All-Camp Games
1st CAMP (August 1 – 5, 2022)
Theme: Unwanted Bivouac in the Red Tent
Tent: ARCTIC
Inspired by František Běhounek's book "Trosečníci polárního more" (Castaways of the Polar Sea). Castaways from the Italia airship fight for survival as they wait for their rescue in the middle of a polar wasteland.  
2nd CAMP (August 15 – 19, 2022)
Theme:  Above Europe in the Airship
Tent: EUROPE 
Getting to know nature, culture and people at the stops of the first airship travelling throughout Europe.
the camps are for children of all nations
age: 7 – 13 years (school age)
site: Brno Zoo (U Zoologické zahrady 46, Brno-Bystrc)
capacity: 23 children/camp
price: 3 600 Kč you pay only 1,600 Kč; we will pay the rest
The price includes: daily admission to the zoo, all-day care for the campers, drinks and food, sleepover at the zoo on Thursday, all-camp games, evening tour of the zoo on Thursday, toiletries, materials for playing games and for camp activities and skills.
Program:
7:45 – 8:15 a.m. meeting children at the seasonal entrance
8:15 – 8:30 a.m. ride on the little train to the camp
8:30 – 9:00 a.m. information about the daily program
9:00 – 12:00 a.m. morning program – all-camp game
12:00 – 1:30 p.m. lunch, afternoon siesta
1:30 – 4:00 p.m. afternoon program – all-camp game, snack
4:00 – 4:15 p.m. parents pick up their children
Every Thursday a bonus program – sleepover at the zoo
4:00 – 4:30 p.m. snack
4:30 – 6:00 p.m. screening of film at the cinema hall
6:00 – 7:30 p.m. evening watching of animals
7:30 – 9:00 p.m. evening games
9:00 – 9:30 p.m. trail of courage
9:30 p.m. lights-out
Please register by completing the form at the bottom of this page and submitting it by June 10, 2022.
Contact Person:
Mgr. Phuong Leová
E-mail: leova.phuong@kr-jihomoravsky.cz
Tel. +420 702 142 669