The most important information about spread of coronavirus in Czech Republic (updated)
Update on May 21
Operation of MOI offices (18th May – 16th July)
Entry to the offices of the Ministry of the Interior will not be allowed to the foreign nationals during 14 days after return or arrival to the Czech Republic due to preventive reasons. It will be possible to visit the office of the MOI only by prior ordering. It is still possible to send submissions by post or to data box.
VISIT WITHOUT ARRANGING YOUR APPOINTMENT IN ADVANCE will be possible for:
Issuing of the bridging label for travelling abroad from the Czech Republic, for workers in international transport, workers of critical infrastructure or for requirements of state authorities of the Czech Republic.
Take-over of the document delivered by public notice.
Issuing of departure order, if the period for travelling abroad from the Czech Republic was determined by the decision to the foreign national.
Submission of application for a long-term visa, long-term residence permit or permanent residence for a child born in the territory of the Czech Republic (§ 88 of the Act on the Residence of Foreign nationals in the Czech Republic).
If foreign national were invited to submit original of travel document or original of the registration document.
For other reasons, send applications to the OAMP by post.
You can find more detailed information on the MOI website.
Residence-related matters after the end of the state of emergency (18th May – 16th July)
Most important:
More information can be found here.
From 25 May 2020, the following will be PERMITTED:
opening of interiors of restaurants, cafes, bars and other catering establishments;
hotels and other accommodation facilities;
taxi services;
trades in which the integrity of the skin is violated;
zoological, botanical and dendrological gardens (indoor spaces);
castles (interior spaces);
swimming pools (covered and uncovered);
saunas and wellness centres;
the possibility of visits to social and medical inpatient facilities;
organized training of professional and amateur athletes in outdoor and indoor sports;
mass events in outdoor and indoor areas with the participation of up to 300 people;
the possibility of the personal presence of primary school pupils in the school.
It is also allowed to move without respiratory protective equipment, except for the following places:
o all interior spaces of buildings (outside the residence)
o public transport vehicles;
o all other places where at least two persons are located at a distance of more than 2 meters unless they are exclusively members of the household.
More information can be found here.
Update on May 11
Government of the Czech Republic approved the partial release of entry to the Czech Republic for Third-country nationals with effectiveness from 11 May 2020.
– From that term, entry to the Czech Republic will be enabled to foreign nationals to whom residence was allowed, but they did not take over residence permit (i.e. arrival will be enabled on a visa to collect a residence permit – D/VR).
– Third-country nationals of selected professions and selected industries will be allowed to arrive:
   a) seasonal workers especially in agriculture 
   b) key workers and their family members
  c) workers in healthcare and social services 
Warning: All foreign nationals will be obliged to submit the medical certificate of negative completion of the RT-PCR test for the presence of SARS-CoV-2 upon entry into the territory of the Czech Republic supplemented by the certificate from the relevant laboratory, otherwise it is not possible to enter the territory. This does not apply to exceptions. See the table here for details:
– Conditions for entry to the territory of the Czech Republic and quarantine measures from May 11th, 2020 (pdf, 137 kB)
More detailed information can be found here
Update on April 30
---
State of emergency prolonged 
The Chamber of Deputies of the Czech Republic agreed to extend the state of emergency until May 17, 2020 yesterday. 
More information can be found at www.psp.CZ
With regard to the crisis measure of the Government of the Czech Republic referred to in Article IV point 3 of Government Resolution No. 443 of 23 April 2020. It applies that the 60-day period in which of the employment relationship is finished, the validity of the employee card expires, it does not run for the duration of the emergency. This period will start running again after the end of the emergency in the Czech Republic. Thus, if the employment cardholder has ended the employment relationship for which the employment card was issued during the state of emergency (ie from 12 March 2020), he will be able to find a new job and announce the change of employer for another 60 days after the emergency. 
Current travel information: https://www.mvcr.cz/mvcren/article/coronavirus-information-of-moi.aspx
Update on April 17
The government's schedule for business re-opening
The government's schedule for educational facilities re-opening
Source: facebook.com/BrnoExpatCentre
Update on April 7
State of emergency prolonged 
The Chamber of Deputies of the Czech Republic agreed to extend the state of emergency until April 30, 2020 yesterday (7.4.). Originally, the state of emergency was declared until April 11.
More information can be found at www.psp.cz
Government decision from April 6, 2020
From 7 April, it is possible to use outdoor sports grounds, parks and other public areas for individual sports. If sportsmen keep a minimum distance of two meters from other people, they may not wear a mask.
From 7 April,  material collection points, collection yards and composting plants can be open for public.
From Thursday, April 9, hobby market stores, hardware stores, construction and bicycle shops and bicycle repair shops can be opened.
Strict hygiene measures must be followed by all stores owners, staff and customers.
With immediate effect, the restriction of the CZECH Point workplaces is abolished.
The ban on travelling from the Czech Republic will be loosening from 14 April. The inhabitants of the Czech Republic will be able to leave the country in urgent cases (https://www.mvcr.cz/clanek/upravujeme-rezim-na-hranicich-po-velikonocich-se-mj-rozsiri-moznosti-vycestovat-do-zahranici.aspx)
More information can be found at: www.vlada.cz
Update on April 2
Emergency measures of the Government from 1 April 2020
The government imposing an obligation on governors and the Mayor of the City of Prague to allocate special beds in health care facilities for clients of social services institutions with proven disease COVID-19.
The government allowed the opening of household goods stores, where it is possible to buy respiratory protective equipment, gloves or disinfection.
Pay ATTENTION! The City Police Officer may impose a fine of up to CZK 10,000 if you do not wear a veil, respirator or other nose and mouth protection.
Information about smart quarantine tested in South Moravia since Monday, March 30.
The goal of smart quarantine is to electronically map all the risky contacts of the infected person within three days and test them as quickly as possible.  Tracing back where the infected person has been and who he has met will work based on mobile data from operators and their payment history from the credit card. The condition is that the infected person must agree with a mapping method. If he does not agree, the hygienist will proceed as standard.
You do not need to install any application for this way of monitoring. The infected person just consents to use the data from his mobile phone and credit card. It helps the infected person to remember who he or she met during the last days. The person with whom the infected person has been in contact for more than fifteen minutes will have to come to the test immediately.
Source: www.kr-jihomoravsky.cz
The decision of Ministry of Health from the 25 March 2020
According to a Ministry of Health's extraordinary measure, only groups of max. 2 people can gather in public spaces. There is an exception for members of a single household, funeral attendees or people performing their work or business. 
Updated on March 24, 2020
Government Decision from the 23 March 2020
Restrictions on the free movement and residence of persons are extended until 1 April 6.00 am. On the same date, all the other measures still in force have been extended.

NEW

 

time for shopping for seniors and holders of ZTP / P over 50 years !!! 

Starting on Wednesday, March 25, the ban on other people's access to stores will be postponed from 8.00 am to 10.00 am. (Applies to all stores with a sales area greater than 500m2)
The government temporarily abolishes charges for sending  "zprávy z datové schránky" (data messages)
More information can be found at www.vlada.cz
Updated on March 20,  2020
From March 20 until the end of the emergency a foreigner using the employee card may change his/her employer or job position even sooner than after 6 months in the Czech Republic. He/she is obliged to notify the Ministry of the Interior about the change in accordance with the statutory conditions. If a new employer implements crisis measures, it is sufficient to notify the ministry about the change on the first day of employment. In such a case the statement of the new employer about their involvement in dealing with a crisis (eg. activities in the field of health care, production of protective equipment, etc.) must also be attached to the notification of the change. The above applies similarly if the foreigner holds a blue card. The Ministry will no longer issue a notice of compliance; these are deemed to have been fulfilled by the notification.

The Czech Government' resolution bans citizens without covering of mouth and nose to move in all public spaces. Face masks or scarves can be used as the covering.
All accommodation facilities are generally prohibited from providing accommodation services. However, this prohibition does not apply to the accommodation of foreigners until they leave the Czech Republic and foreigners with a work permit in the Czech Republic. Accommodation services are defined by Government Regulation No. 278/2008 Coll. "o obsahových náplních jednotlivých živností". All obligations of accommodation providers under the Act on the Residence of Aliens remain unchanged.
For people over 65 and handicapped the Ministry of Health has newly reserved time between 7:00 and 9:00 for shopping in grocery stores and pharmacies. Other people are not allowed to shop in this period.
Due to possible measures at the borders of neighbouring or other countries, the admission to the territory of a foreign state cannot be guaranteed.

For departure to the country of origin, we recommend contacting the embassies, which in many cases are very active.

Some measures are also being prepared by employers; it is also possible to consider changing an employer (please see above).

The rules for shuttlers: www.mvcr.cz
Important information for foreigners: www.mvcr.cz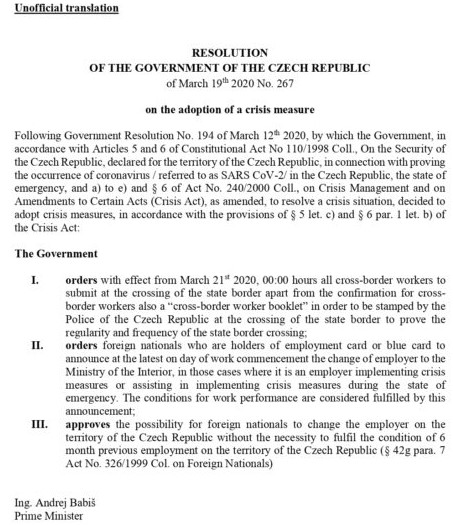 Updated on 19 March 2020
The coronavirus information in the Czech Republic from the Ministry of Health
Dear clients, 
On the following link, you can find daily updated important information about the coronavirus in English and Czech. 
Ministry of Health website: https://koronavirus.mzcr.cz/en/
Updated on 18 March 2020
On 15 March 2020, the Czech Republic Government issued a regulation which bans a free movement of persons on the area of the Czech Republic. Journeys to work, necessary journeys to family, necessary journeys to get basic living supplies and journeys to health facilities are allowed. 
Sources and more information:
Office hours of the "OAMP" – MOI from 16 March 2020
Monday 9:00 – 12:00
Wednesday 9:00 – 12:00
For more information visit www.mvcr.cz
On the website of Brno municipality, you can find all information regarding the precautionary measures in connection with the spread of coronavirus. All information is also translated into English, Russian, Vietnamese, Romanian, and Arabic.
https://www.brno.cz/coronavirus
Updated  on 12 March 2020
The Czech Republic Government announced a state of emergency from 12 March 2020 for the following 30 days. Effective on 13 March 2020 from 6:00 all events with more than 30 people are banned. This applies to theatre, music, film and other artistic performances, sports, cultural, religious, community, dance events, exhibitions, celebrations, pilgrimages, tastings, markets and trade fairs.  Effective on 13 March 2020 all entertaining facilities, fitness centres, solaria, wellness centres, sports grounds and swimming pools, music and social clubs, public libraries and galleries will be closed completely. Between 20:00 and 6:00 all catering premises will be closed. Effective on 14 March 2020, the Czech Republic Government forbids the entry into the country to all foreigners arriving from risk areas. This does not apply to Czech citizens or foreigners having permanent or temporary residence in the Czech Republic.
Updated on 11 March 2020
Dear clients,
we would like to inform you due to the prevention of the spread of COVID-19, please, consider the need of visiting MOI offices in cases when you can solve your matters without a personal visit. If you came back from Italy, you must follow the measure below.
We will inform you about the situation of COVID-19 in this new section. You can see more information on the website of the Ministry of Health too – https://www.mzcr.cz/.
This email address: pobyty@mvcr.cz is designed only for foreign nationals who must be in quarantine due to decision of Ministry of Health from March 7th, 2020 and cannot arrange their matters other than personally on MOI office. We will only respond to questions connected with COVID-19 and quarantine. There will be no reaction to other questions due to capacity reasons.
Thank you for your understanding.
Updated on 10 March 2020
We would like to inform you about today decision of the Czech Government. From today until further notice is banned all the events with more than 100 participants. All elementary schools, high schools and universities are closed from March 11 until further notice.
Courses in our Center are NOT cancelled. All courses will be held on the same dates as before. We monitoring the situation and keep the information on our website and Facebook updated.
Web: www.cizincijmk.cz
FB: www.facebook.com
Public Gatherings of Over 100 People Banned Throughout the Czech Republic
Updated on 9 March 2020
Given the current situation, clients returning from high-risk areas (Italy: Emilia-Romagna, Lombardy, Piedmont and Veneto) where COVID-19 has occurred are encouraged to observe 14-day quarantine and not attend Czech language courses or other seminars or courses and events organized by our Center. For countries where quarantine is not yet mandated: China, Iran and South Korea, inform your GP to decide on your condition.
In the case of quarantine, contact the Center staff and your absence will be excused.
Thank you for your understanding.
New obligation for foreigners (including EU citizens) living in the Czech Republic
Other information from OAMP:
More coronavirus information:
Map of affected areas can be found here: www.cdc.gov/coronavirus